Toolkit
Applying New COVID-19-Related Funding to Address the Housing Needs of Individuals with Serious Mental Illness, Substance Use Disorders, and Co-occurring Disorders
Published: May 5, 2022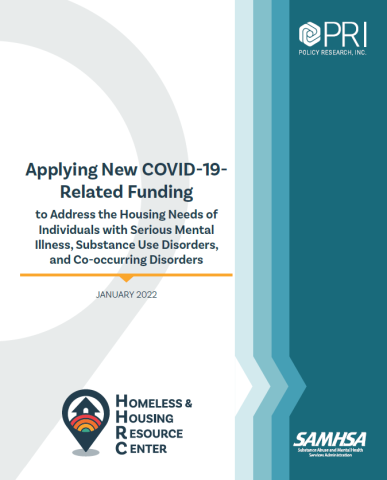 This paper highlights newly available federal funds that can be utilized for housing and paired with supportive services funding for individuals who are experiencing or at risk of homelessness and who have a serious mental illness, a substance use disorder, or co-occurring disorders. The paper also notes several ways for state and local leaders to promote cross-system partnerships that pair housing resources with physical and behavioral healthcare and supportive services.
Funding highlighted in this paper includes the following:
HOME Investment Partnerships Program–American Rescue Plan

Emergency Housing Voucher Program

Emergency Rental Assistance Program

Emergency Assistance for Rural Housing

Community Development Block Grant—Recovery Housing Program

Emergency Solutions Grant—CARES Act
With this information, homeless and behavioral health service providers can engage the appropriate stakeholders and access affordable housing and supportive services that together will optimize the health and wellness of the individuals they serve.
This resource is available in both English and Spanish.
Downloads
Classification
Focus

Laws/Acts/Regulations: CARES Act

Topic

Co-occurring Disorders
Housing Models: Housing First
Housing Navigation: Housing identification
Specialized Partnerships: HUD Continuum of Care (CoC)

Language

English
Spanish