Toolkit
Coordinating Systems of Care to Provide a Comprehensive Behavioral Health Crisis Response to Individuals Experiencing Homelessness
Published: June 21, 2023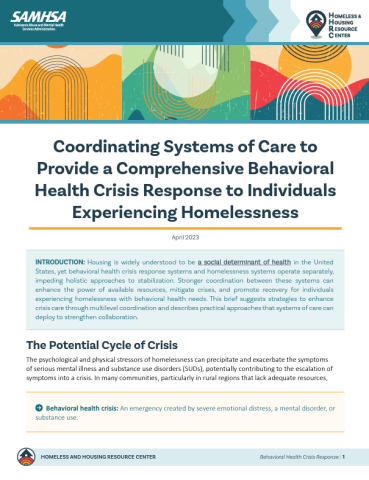 Housing is widely understood to be a social determinant of health in the United States, yet behavioral health crisis response systems and homelessness systems operate separately, impeding holistic approaches to stabilization. Stronger coordination between these systems can enhance the power of available resources, mitigate crises, and promote recovery for individuals experiencing homelessness with behavioral health needs.
This brief suggests strategies to enhance crisis care through multilevel coordination and describes practical approaches that systems of care can deploy to strengthen collaboration. Sections include: 
Crisis Prevention and Early Mitigation
Enhancing Crisis Response
Ensuring Continuity Post-Crisis
Enhancing Community Partnerships
Opportunities for HUD Continuums of Care and Behavioral Health Systems
This resource is available in English and Spanish.
Downloads
Classification
Topic

Mental Health: Serious Mental Illness
Mental Health: Mental health treatment
Trauma
Co-occurring Disorders
Integrated Care

Language

English
Spanish