Fact Sheet
Fair Housing Protections for People with SMI, SUD, or COD
Published: August 30, 2022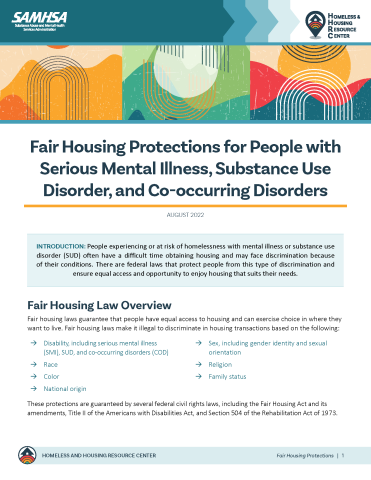 People experiencing or at risk of homelessness with mental illness or substance use disorder often have a difficult time obtaining housing and may face discrimination because of their conditions. This document describes how individuals with disabilities can leverage federal laws to protect themselves from this type of discrimination and ensure equal access and opportunity to enjoy housing that suits their needs.
Sections include: 
Fair Housing Law overview
Protections for people with disabilities
Identifying when someone may be discriminating against you
Making reasonable accommodation or modification requests
What to do if you think you experienced housing discrimination
This resource is available in English and Spanish.  
Downloads
Classification
Focus

People with Disabilities
Laws/Acts/Regulations: Fair Housing

Language

English
Spanish